Daily tattoo picture weblog of the stuff I do at work. (All pictures are taken with my camera phone) Currently working at ...somewhere else... Any comments? sunshinesheaven@hotmail.com
Wednesday, May 26, 2004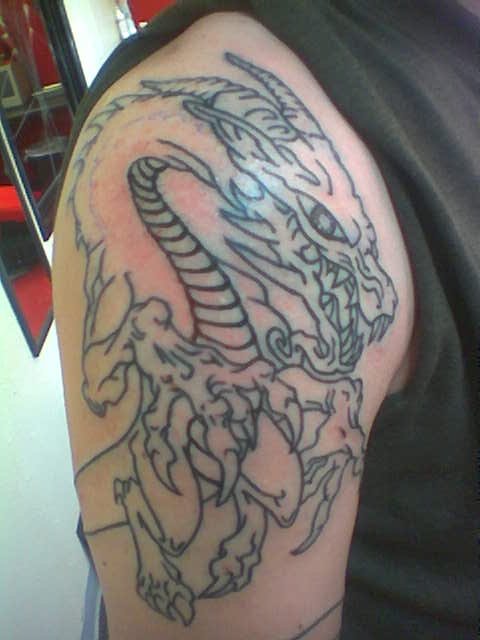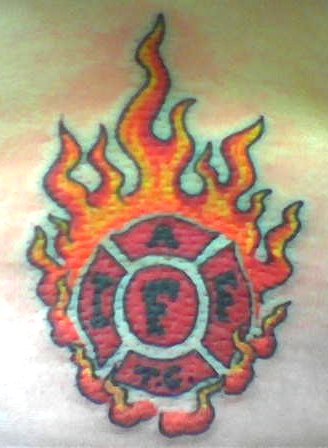 Monday, May 17, 2004
Here are some pictures of tattoos that I did at Blue Dragon.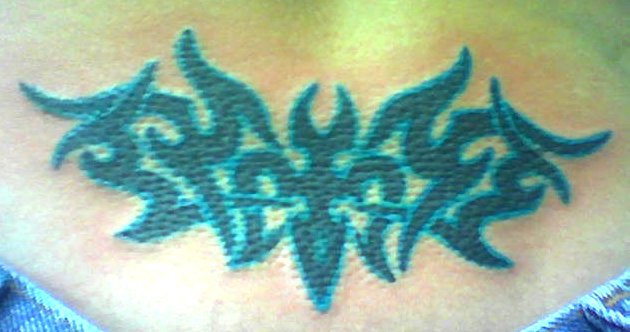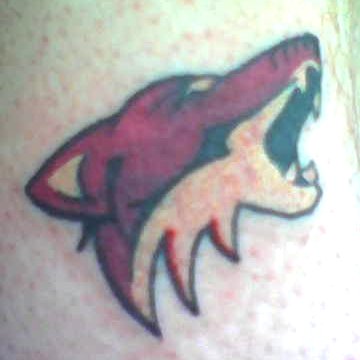 This Phoenix Coyotes tattoo is actually a coverup on a friend of mine. The "K" is hidden in the ear.
And here are some pics of B.D. without me. This is the place I left...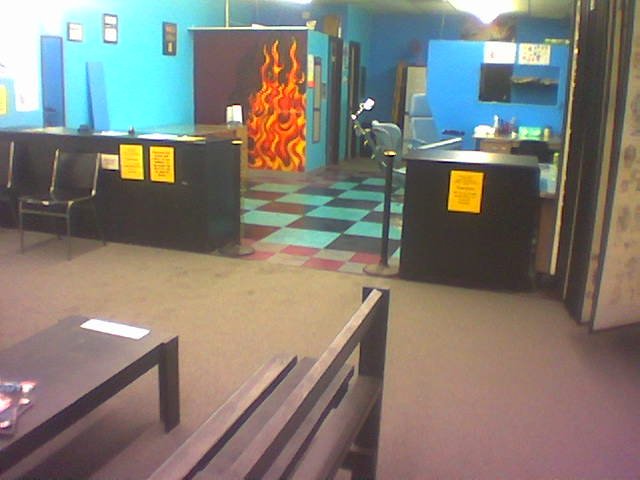 And some pics of the new shop BRIGHT IDEAS, in Avondale.
I think I am moving up, don't you?.....
Lots of you have already confirmed appts. for later in the month, but
I DID NO TATTOOS, AND NO DOLLARS on my first day of work!!
Come on guys!
Where's the love?
Come In!! Come On!!
BRING FRIENDS!!!
so, here's the counter in BRIGHT IDEAS....
and the boss's, Jon's, station...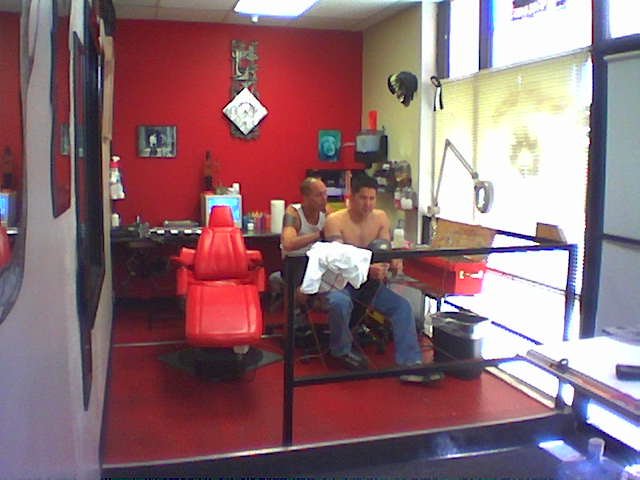 and my workspace...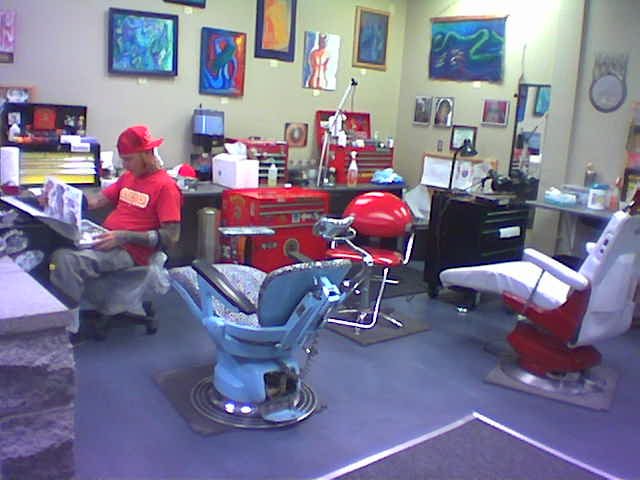 I FREAKIN' QUIT!!!!

IT IS OFFICIAL!!!
SUNSHINESHEAVEN NO LONGER WORKS AT BLUE DRAGON TATTOO.

I AM NOW WORKING AT

BRIGHT IDEAS
Custom Tattooing, Piercing and Art Gallery.
1425 North Central Ave.
Avondale, Arizona
623-932-7890

I am not quite sure of the hours yet, but we are thinking of some combination of this:
M W F 10am-5pm T Th 10am-1opm Sun 12pm-5pm
I won't work all of those hours, but those are the times available for me to work. Call me on my cell phone or at the new shop to reschedule your appoinments with me.
I will have pictures of the new shop later today!

So.....
One final look at the past,
and
We're off.

Wednesday, May 12, 2004
This is where I spent my vacation.....pardon me if I don't get back into posting on the weblog for a while...
plus it's been REALLY slow at work....
well, we will just all of us have to be patient.
BLOGGER has undergone major renovations, which I highly approve of and love!!
but changes are difficult, and require adjusment periods...
so I will have to wait to post pics whilst I contact them to puzzle the prob....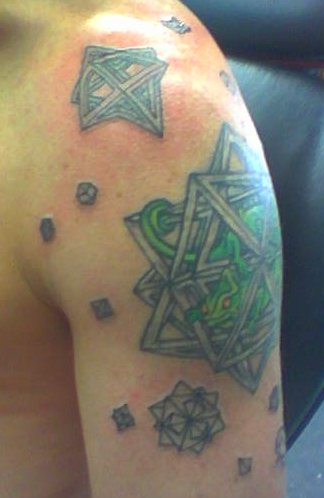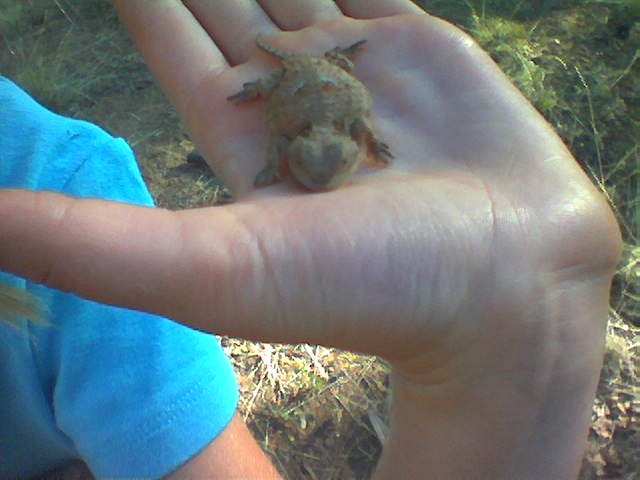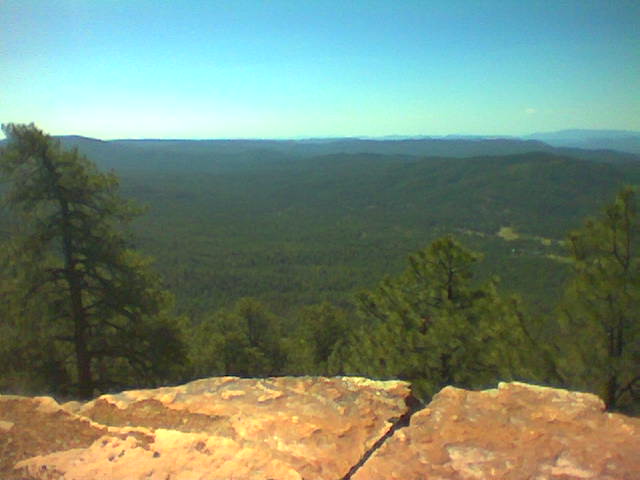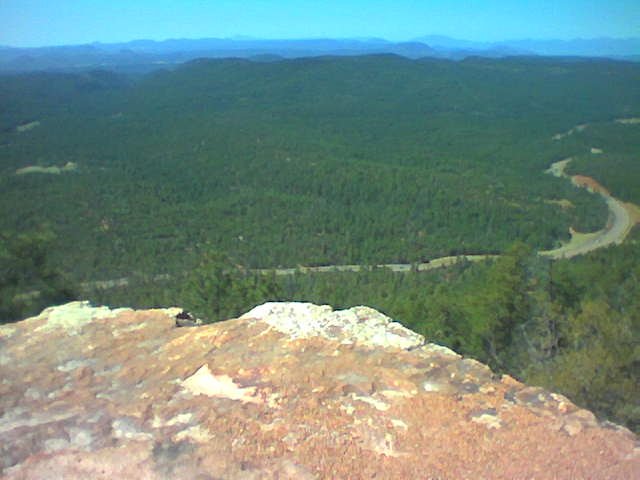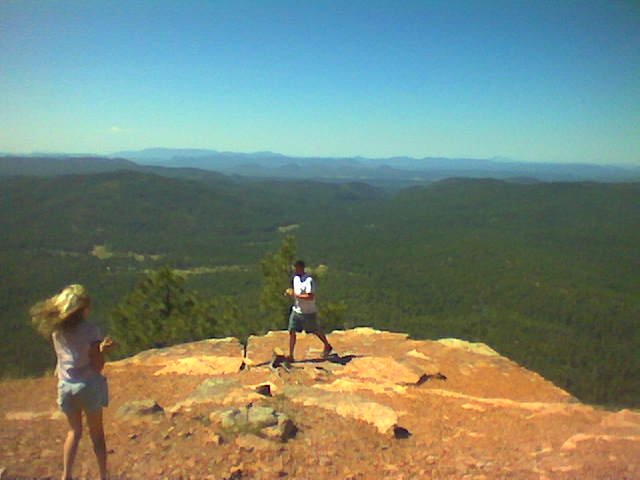 Wednesday, May 05, 2004
Today started out kinda slow.....saw the boss twice.....Matt worked today, he is the new counter/cleaning guy, and Kat is the other one (Kat works tomorrow...and Chad)
Then I did some tats...a black tribal dragon and rework of the crest that was already on there.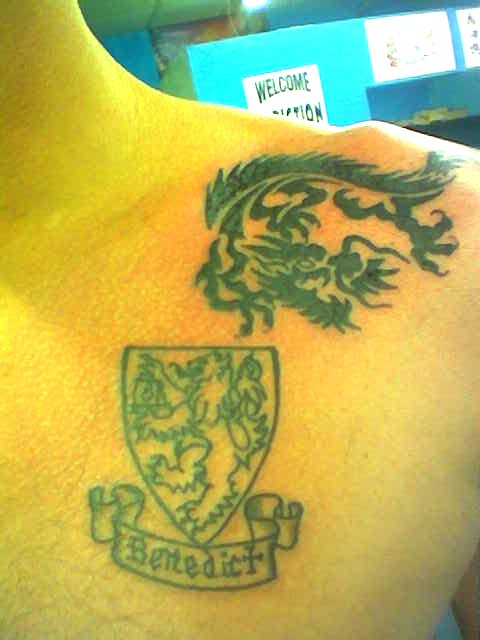 After that I put a butterfly on Carla. Carla was from...it's not India, but she said that that was right, too, somehow. She was dark skinned and was so happy to get color.
Even happier to hear that it should get brighter as it heals.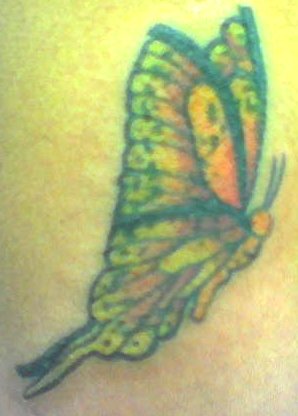 To finish up, I worked on Charlinda. We put in the outline of a rose tribal piece. Later, we are going to color in the stem/tribal pieces in greens and blacks. Each rose will be a different color, one color for each child, and a ladybug will be on one of the roses, as well.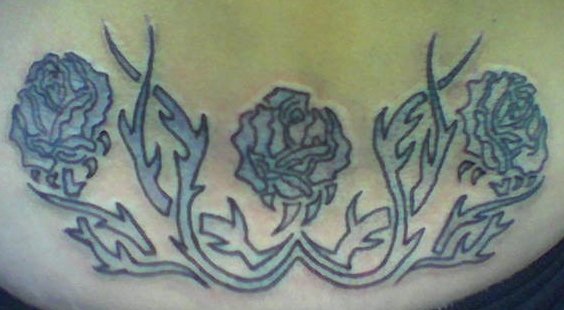 More pictures tomorrow...and then I AM GOING CAMPING!!!
NYAH! NYAH! HAH! HAH!
I will be gone for four days. We are going to the Mogollan Rim area. I will be back at work on Tuesday with lots of pics!
love ya's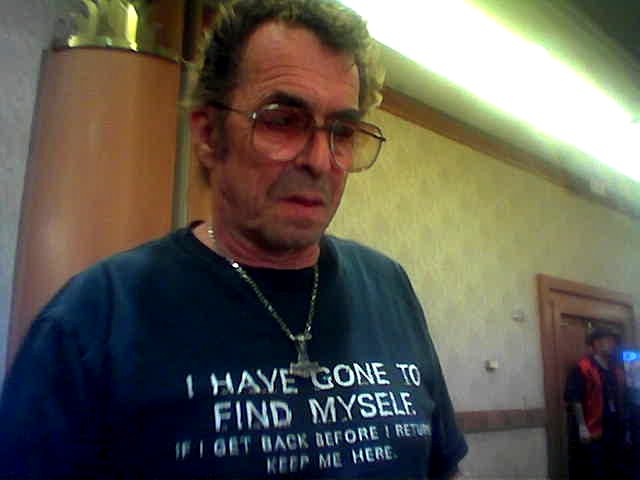 This is my boss......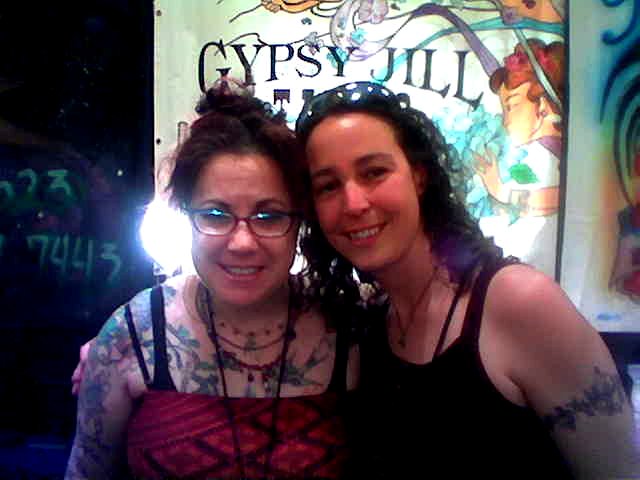 and this is Gypsy Jill. They shared a convention booth.
Then some coverups. One is for R. again. R had done an Amy Brown fairy that needed to be reworked. And I did a retouch at convention, too. I don't know who did the original tattoo on her. She had wanted to cover it up with something else entirely, but couldn't decide with what. An Aquarius and Leo Zodiac signs intertwined. After talking about it, she decided to just save what she had, so I reoutlined and recolored. Added the name and dates.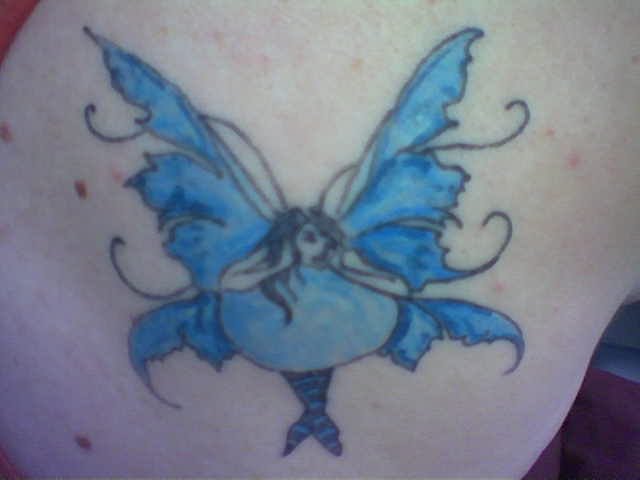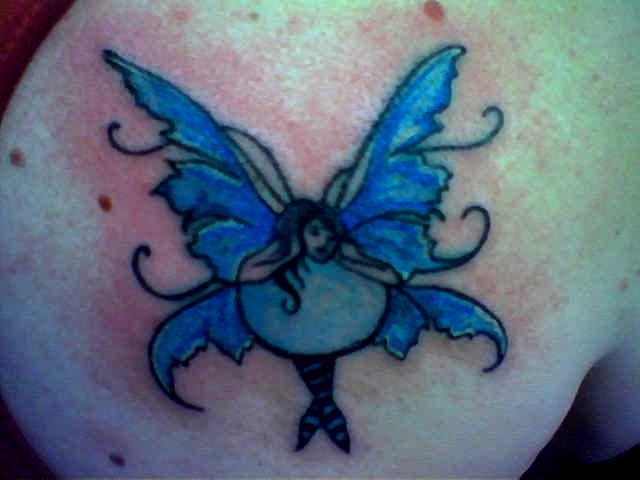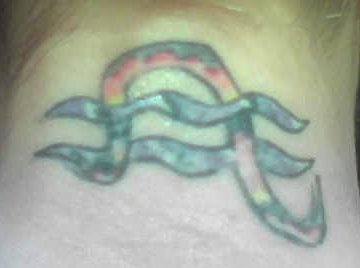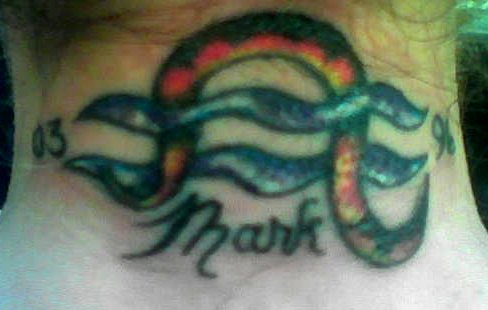 Tuesday, May 04, 2004
Finally, I am able to update......and now it is so late I will have to be quick.
Well apparently.....Tmobile and the website host cannot get together... I am finally able to get my pictures from my phone to my email, but am again unable to upload photos from my computer to my website due to server problems (or could be cox cable, too, I guess)
Still no go. I will try again in the morning, keep watching, there are like 7 or 8 photos....
sorry about the delay....


Saturday, May 01, 2004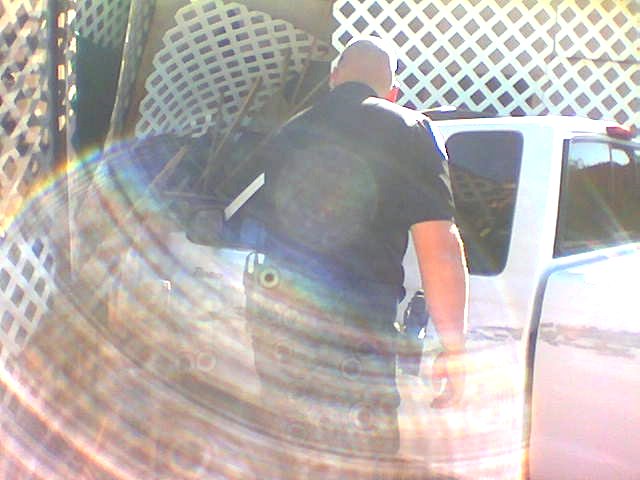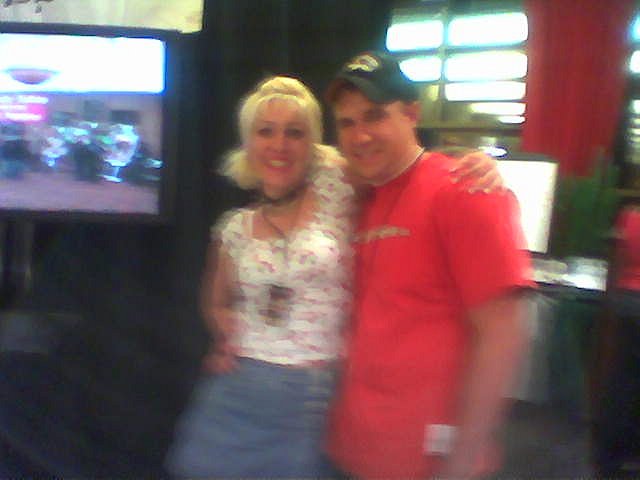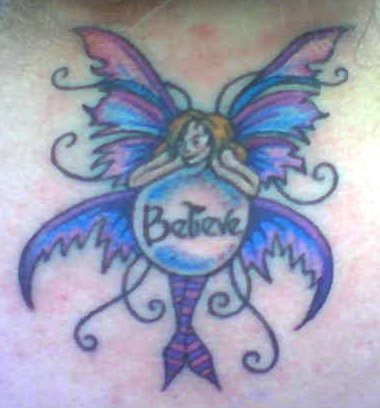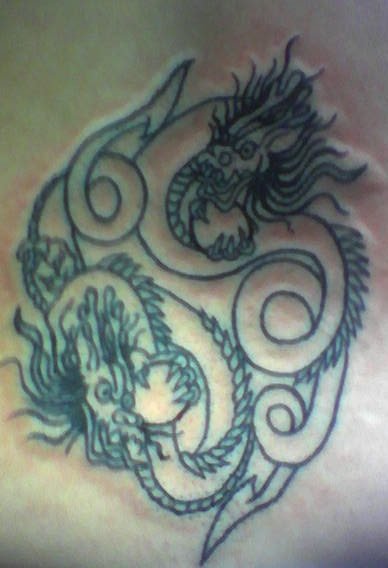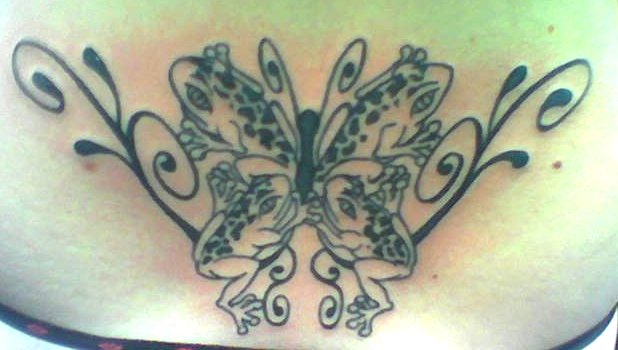 great.
problems again. i love not being able to upload photos.
i'll try again tomorrow morning.
but it was a truck that drove thru my back fence and into my house this morning for breakfast.
I have had the most amazing week.
Last week was VERY slow. Not even that many appts.
Then yesterday, I worked the convention for APT (Alliance Professional Tattooist). Talked to Judy Parker, whom I'd met before, and watched her work on some of the Infusion Art that is being sponsored by the Convention. I said "hi" to Gyspy Jill, and I will be working beside her tomorrow....I talked to Gail, the new secretary for APT, and Dennis Dwyer. I spoke with several artists who were most willing to share and talk, THANK YOU to Sam from LA, and Ron from Albq. New Mex (?) who let me talk his ear off while he worked on an Infusion Art piece.
At the very end of the convention last night, the Germans showed!! Florian and Mike came and we wandered around a bit. Then I had to drive all the way home...they are staying at the Marriot where the convention is, so I will see them again tomorrow.
Today, I went to work and did 3 tattoos, a Frog Butterfly tattoo (outline only), an Amy Brown Fairy, but not the same colors. And also a double dragon outline. Then I packed up my cart and loaded up, and left the shop about 8:30.
Tomorrow, I am planning on being at the Blue Dragon Booth between 12 and 8 or so'ish. So come and give me a peek....
OH AND LOOK WHAT DROVE INTO MY HOUSE FOR BREAKFAST.
An amazing week.