Daily tattoo picture weblog of the stuff I do at work. (All pictures are taken with my camera phone) Currently working at ...somewhere else... Any comments? sunshinesheaven@hotmail.com
Thursday, October 30, 2003
Wow!! Hard to think that tomorrow is Halloween.
This is a tat on a guy named Josh. He and Dan were kind enough to spend an afternoon with me, so I gave them tattoos in memory of Rosa. Dan's wife, Josh's mom. I had also tattooed a Hawaiin flower on Rosa's ankle. I have looked for a pic of it, but cannot find one. Rosa had signed the bench while she was there, (it says Rosa loves Dan), and Dan said he kinda felt like she was there with us all day.
I think the tat on Josh turned out rather well. the pic is not the greatest tho. but for a camera phone, it ain't bad.
Here's to Rosa, on Halloween, or almost. They loved you. I was proud to honor you with a tattoo.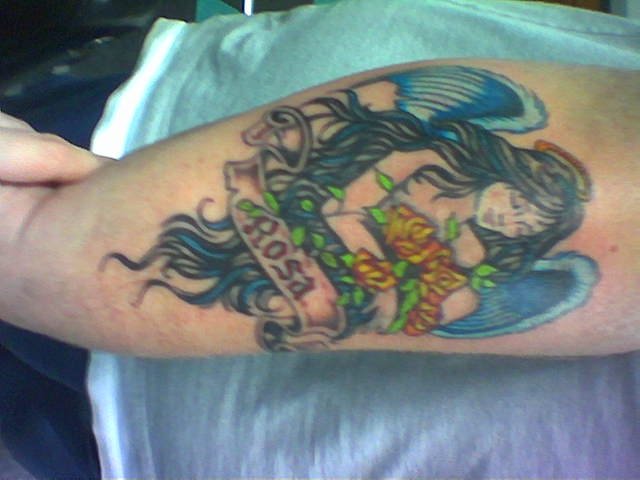 Thursday, October 02, 2003
And there is Chris. I did this tattoo a while ago as well. Also, I took these pics outside and after dark with just my camera phone.
Ha!!!
Alexis will be happy to see her tattoo online!!
I did this tat about 6 months ago. She has the same one on the other hip.
As I get better w/my camera phone, the pics will get better. (That is one cool ass phone, by the way. I highly recommend picking one up.)
Also, as i learn how to blog better, i will learn how to size them and move them around. Anyway,
HI ALEXIS!!