Daily tattoo picture weblog of the stuff I do at work. (All pictures are taken with my camera phone) Currently working at ...somewhere else... Any comments? sunshinesheaven@hotmail.com
Saturday, January 31, 2004
Today I did some nice butterflies on Wendy's back. She had gotten another tattoo from me before...a celtic knot piece. She has referred alot of people to me. Thanks Wendy!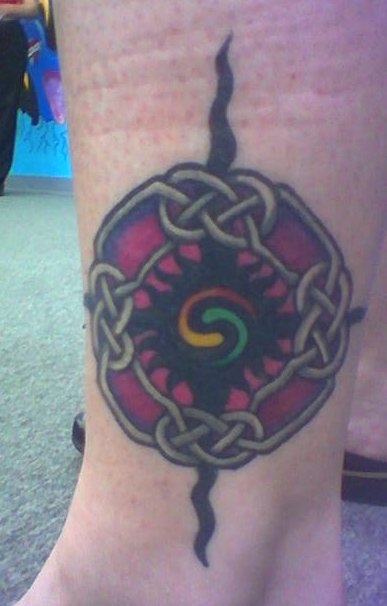 And here is a picture of Carl's back. I did not do the outline of the fairy girl in the middle of his back, but I did color some of it. Also I am working on the fire horse, and the moon lady in the upper left and middle of his back. We have alot more work to do on Carl's back before we are done...Hi Carl!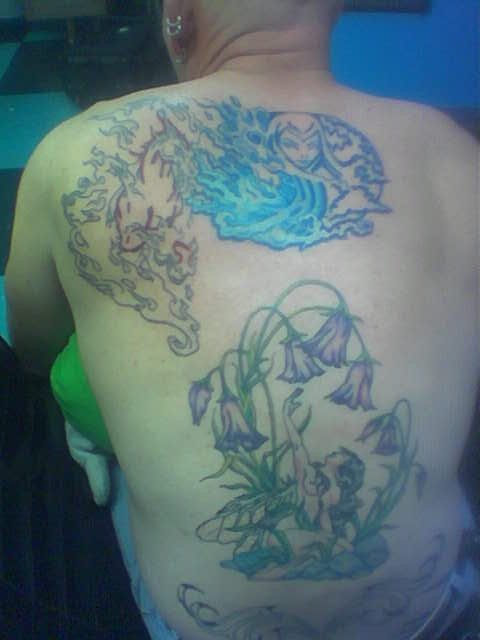 Wednesday, January 28, 2004
A nice David Boldt piece.....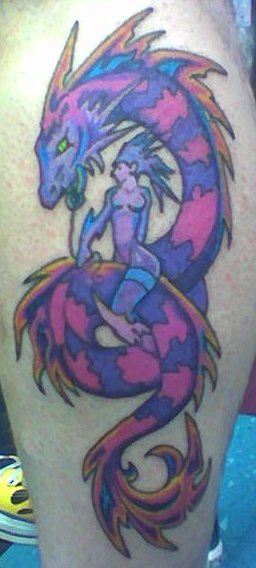 Sunday, January 25, 2004
Here is an Amy Brown (original artist) faery that I did today. Her name was Michelle. She came in with her mom and they both got fairy tattoos. I also worked on Dave today, finished up all of his ripped skin outline. Next time we will start shading.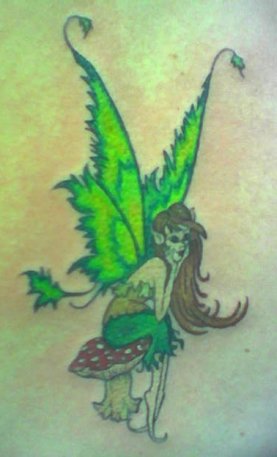 Thursday, January 22, 2004
This is a cross I did on one of my best friend's back calf. Dana is leaving for Texas soon. I have over a dozen pieces on Dana. Including the cute fly seen later in the site.
Sunday, January 18, 2004
Saturday was busy. I did some eyeliner to start. Then I got so busy, I forgot to take pictures of everyone else......

Friday, January 16, 2004
Dana's fly......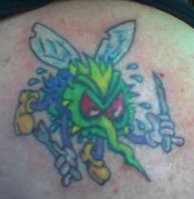 and also, a "superbeetle" logo.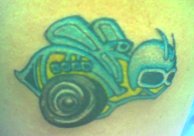 Monday, January 12, 2004
Here is the piece I did today. I only re-outlined this and started the shading. Both of us ran out of time. His name is Brian and he is Trina's (flower on the ear) son.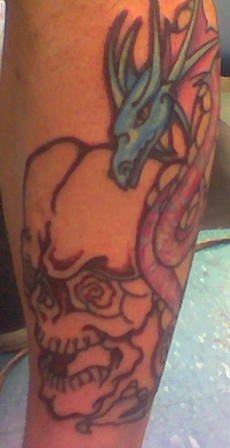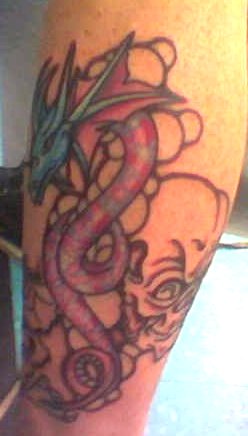 Sunday, January 11, 2004
Ok. Here ya go guys. More pics for ya. This is Jeff. This is just the outline. We have alot more work shading left to do.
And on Rob, I only did the bead work. Not the flames in the middle.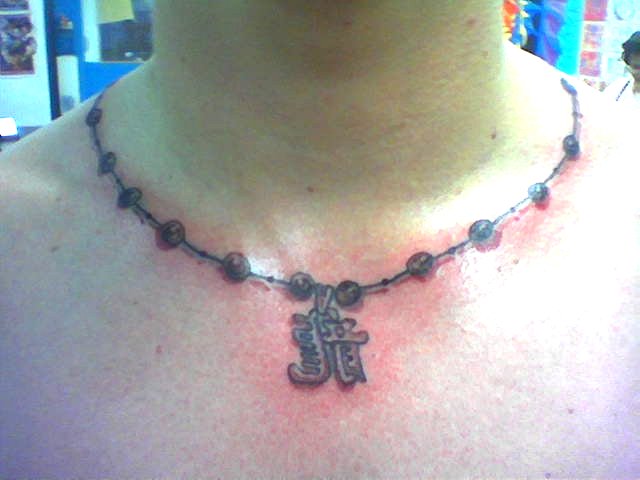 Thursday, January 08, 2004
Ok....Here is stuff I did today and last night.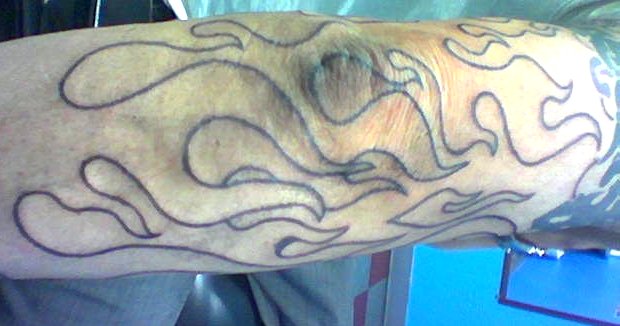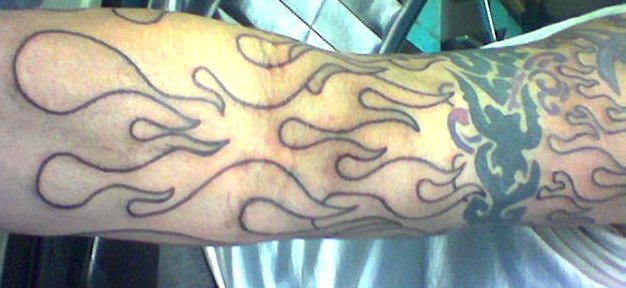 Here is Dave again. You will see the skull/tribal later again in the site. Today we did the ripped/stretched skin stuff.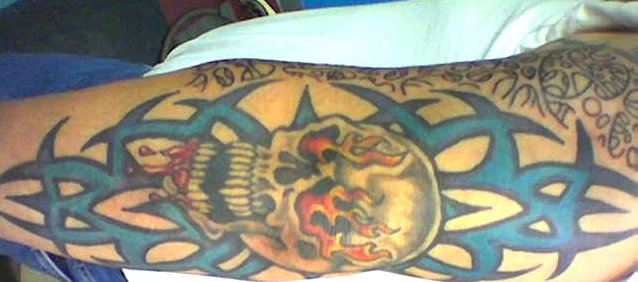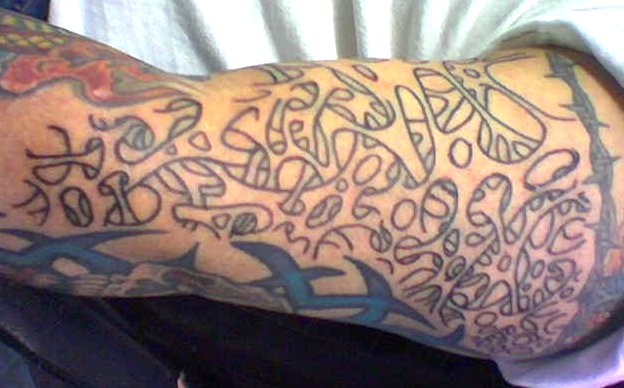 Here are some I did yesterday.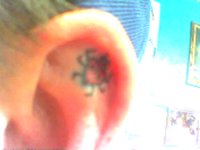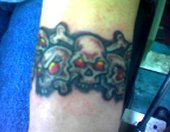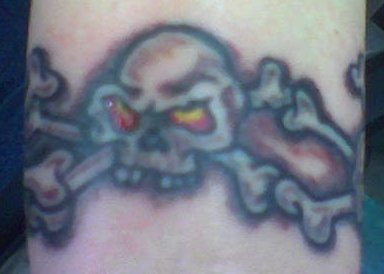 Tuesday, January 06, 2004
This website management is alot of work.
And I am trying to get a counter to see if any one ever even comes here....
So, until I get a counter, email me at sunshinesheaven@hotmail.com and give me some feedback about the site...
So far....no one has said anything....
Hello?...
Here is some stuff I found in my photo bin. Most of it is 2-3 years old.
AND YES I KNOW
I am still having problems with resizing and cropping.....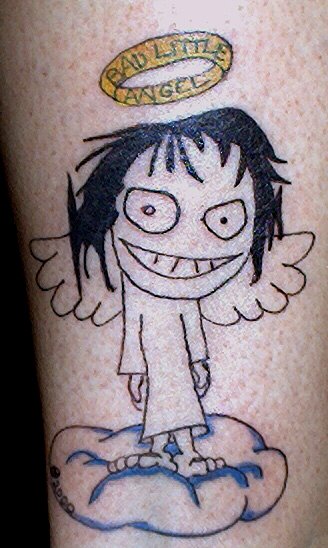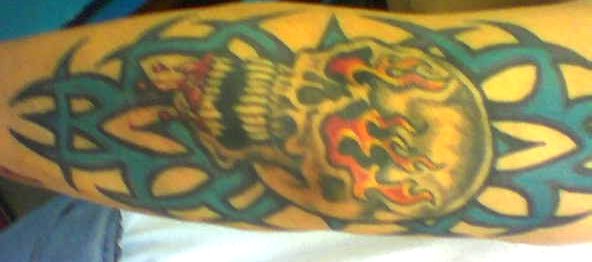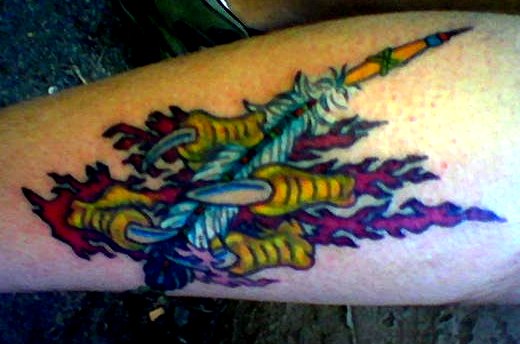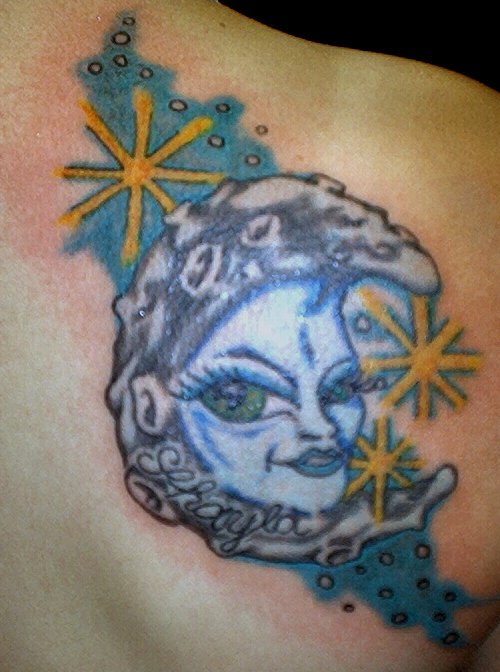 Monday, January 05, 2004
I did a cute flower vine on Trina's ear today. Another piece done on a day off.....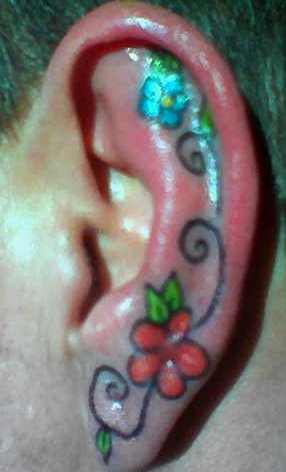 Here is Dave. He has two big pieces from me. And also a small one to commemorate his sister's death in 2003.
These were two lifelong friends. One now lives in Ireland. Both came in to get tattoos. Maren and Leaf.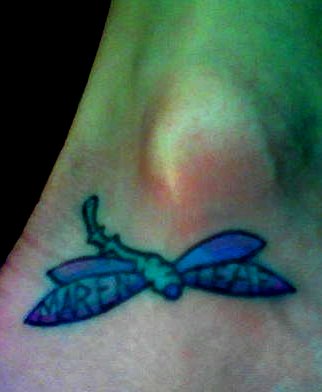 This is Kristen. We are working on a coverup for her. She had some home made tattoos that she had had removed with laser. These koi are over that.
Here are some fly/faerie wings I started a while back. She is hoping to finish with lots of sick purples, greens, and blacks.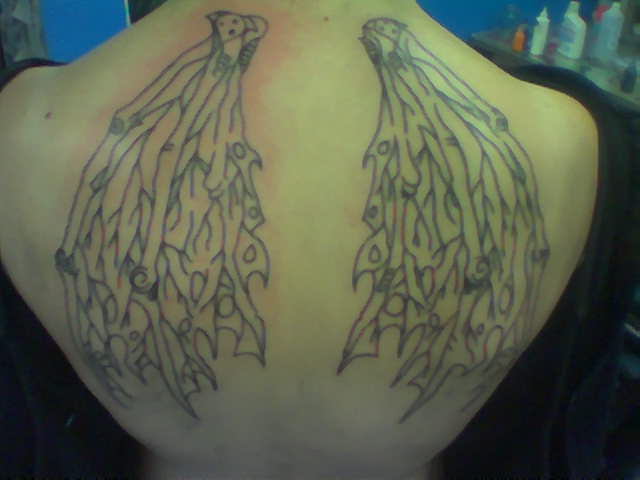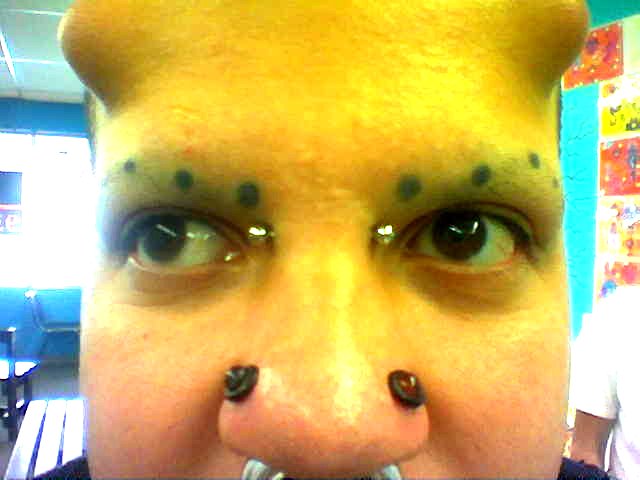 I did the dots over Louie's eyebrows. These need a touch up about every 6 months to continue to be vibrant black. Louie can be seen in the February Issue of Savage Magazine.....if you can find that issue!

In fact....If any of you have a February issue of Savage, please contact me at work and let's talk...

And while the Germans were here, I gave them both tattoos. Here is the Coop girl I put on the back of Florian's forearm.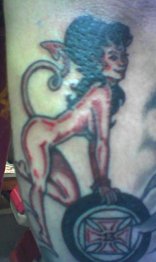 Here is a picture of the SpiderLady on my own leg. I have retouched her lines getting ready for color work. I can't wait!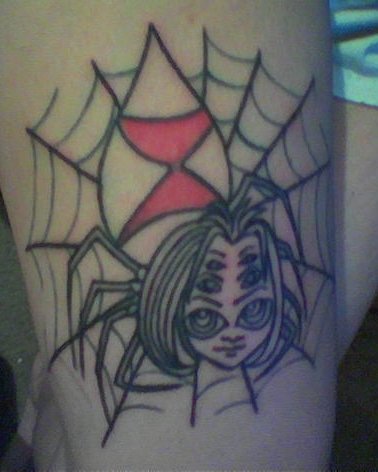 Sunday, January 04, 2004
OOOOH look...I am resizing the pics..... the website is getting better.....
AND.....
if for some reason your picture doesn't get on here, come back in and we will take another photo. That is the main reason a picture does not end up on the site, poor quality photography. NOT poor quality of work. Remember, I am taking all the pictures you see here with my camera/phone. It's mostly for fun.
So, any way, lots more photos coming.. every day in fact.
Remind me to take a picture of your tattoo the next time you're in the shop to see me....and you can be on the internet, too!
This is a touch-up of a ring I did about 6 months ago.
Jazlyn.
It is his daughter's name.....not his wife or girlfriends.