Daily tattoo picture weblog of the stuff I do at work. (All pictures are taken with my camera phone) Currently working at ...somewhere else... Any comments? sunshinesheaven@hotmail.com
Wednesday, December 31, 2003
So, this is Chris. We are working on a big ocean / underwater scene on his leg. Sorry about the blurry look, still working with editing, resizing, and working against pixelization.
We have a long way to go on Chris's leg.
And all of you who have seen it know,
NO,
I did not retouch the color on this. It's just amazingly bright.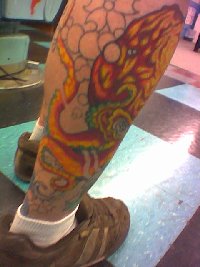 Monday, December 29, 2003
Just a note to anyone insane enough to look at this website will notice a few things........THE WEBSITE LAYOUT SUCKS!!!
Tooo bright.....ouch..... I know .I am working on it.
Tooo yeah yeah yeah...... I know. I am working on it.....
Well, actually, I am going to have my 14 year old work on it...
The main thing I want is for you guys who have been trusting enough to get a tattoo from me (And some more than one!) to be able to just say Hey Look!!..here's My New Tattoo on the Internet !!! to your friends, and they can all see, too.
So, working on the design layout.
Everyone have a great, safe and Happy New Year!!!

oh....yeah. and if you were crazy enough to visit this site, and then crazy enough to read all the way back...you will also notice I am smoking again, so don't give me any shit about it or I'll stick you. and charge you for it......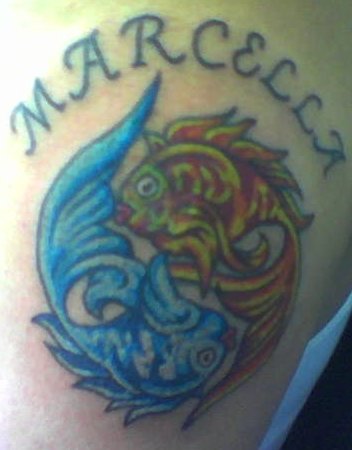 I think he liked it....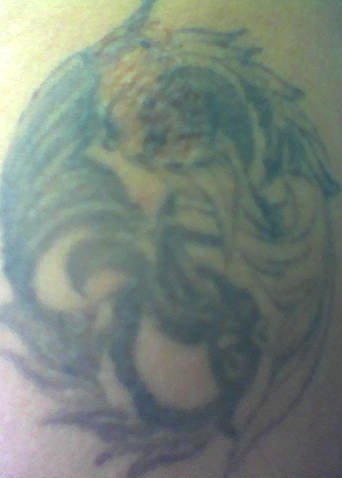 Rueben got lucky today! I did this coverup for him on my day off!!
and by chance, too, not appointment.....
I happened to be at work, working on some artwork for a 16 inch piece I have coming up .....but next thing ya know...
Sunday, December 28, 2003
Two customers got matching tattoos today, little tiny flowers..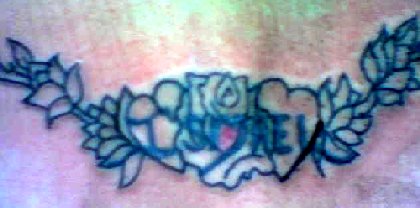 Here is a coverup in progress. She had a name in the middle of her back and wanted it to go away....she liked flowers and hearts instead!
This is an "Easy Picasso" that my friend Ben brought to me and asked for.....easy picasso.....I laughed.
Thursday, December 25, 2003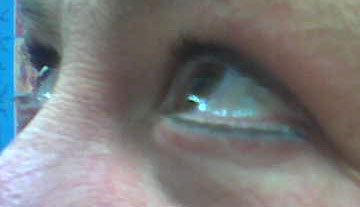 Here is some eyeliner on Lori...Merry Christmas, Lori!
You are on the World Wide Web!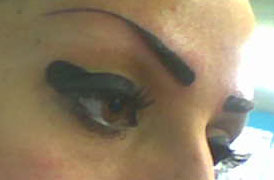 And look, I think I did it again....more eyebrows...on Heather...
WOOOOHOOOOO!!!!! Look!!! I cropped, saved and uploaded a picture all by my self. The first one you see, one of my customers helped me do, and the second one of Andrea's eyebrows, I did by myself!!!
YAY!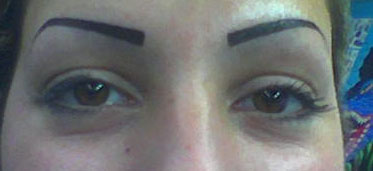 A cool spidey piece. I think she was a detention officer at a state facility. I enjoyed this piece alot. Also the company!