Daily tattoo picture weblog of the stuff I do at work. (All pictures are taken with my camera phone) Currently working at ...somewhere else... Any comments? sunshinesheaven@hotmail.com
Wednesday, April 28, 2004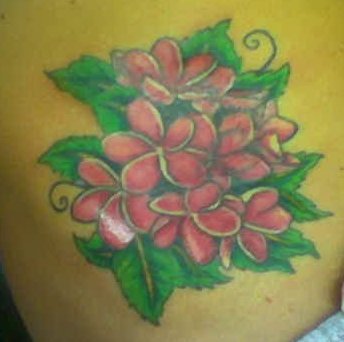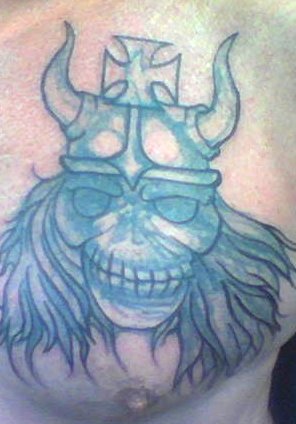 Tuesday, April 27, 2004
hmmmmmm......
well I can post, but currently unable to upload pics.....
will try again in the a.m.
Today was really slow. Boss came in twice, first time with the new receptionist person, and second time cause I was in trouble. Only did two tattoos today, and one of those was just a finish up of one I had already started. The plumeria tattoo got finished today. Looks great!!
And then Dan came in with a viking skull that needed help. We worked on the outline tonight and then he wants to try some color. He has some travel plans that he had premade, so we don't expect to get together again until June or so.
Hope tomorrow is busier.....
Sunday, April 25, 2004
OK!!!!! SUNSHINESHEAVEN IS GOING TO THE PHOENIX VALLEY OF THE SUN TATTOO CONVENTION !!!! I will be working two booths.....I will be working the ALLIANCE PROFESSIONAL TATTOOIST (APT) booth on Friday, April 29th. I will also be working the Blue Dragon Tattoo booth on Sunday, May 1st.
Come and say "Hello" !
Tell me you saw me on sunshinesheaven and get a special deal! (maybe not on convention day, but I will definitely remember those of you who show up at the convention to say "hi" and I will be sure to give you a screaming deal on your tattoo later at the shop if we have to.
Here are some of the things I did today... I think just a couple, it was kinda slow.....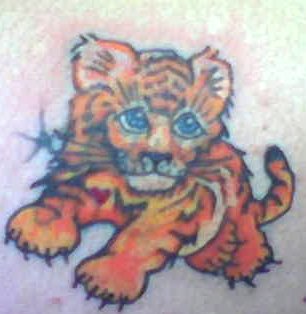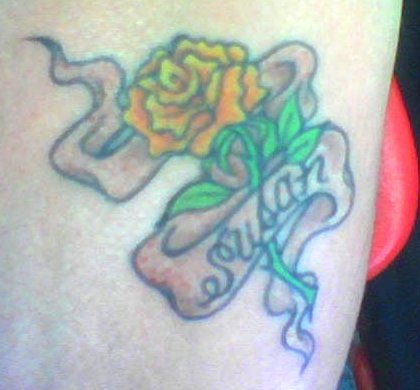 Friday, April 23, 2004
The party I went to on Saturday night took me a few days to get over, even the hostess was passed out by the time I got there! Dave, the ripped skin tattoo guy, was there too, and he is the one that got Karen drunk on tequila. I got my spiked dog collar on him and took a pic of that too.
I had typed all of this up last night, but then my computer crashed right as I started to upload photos. So, I forgot what all I had to say,
but here are the pics....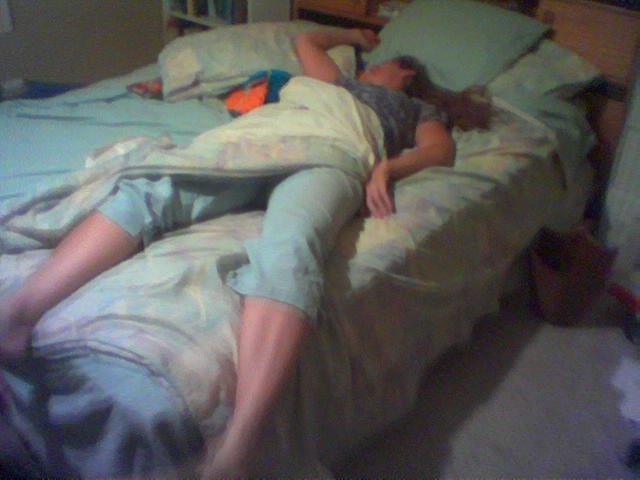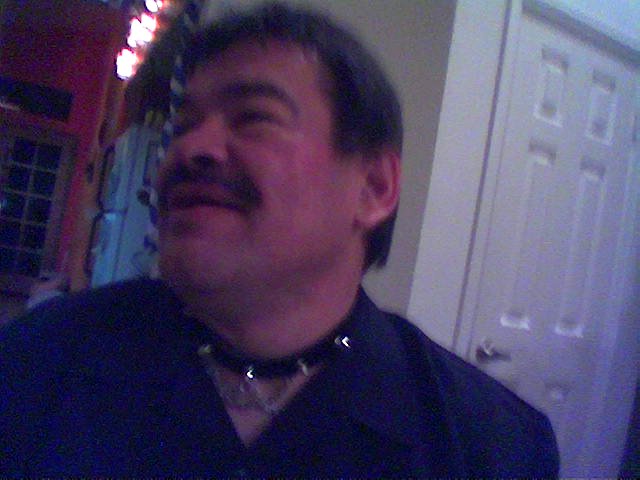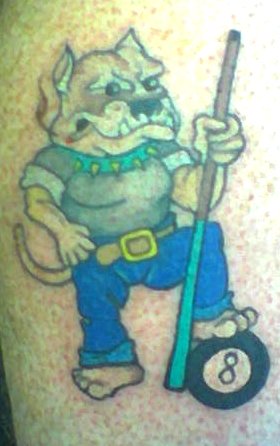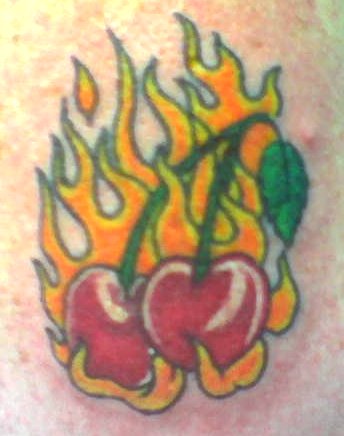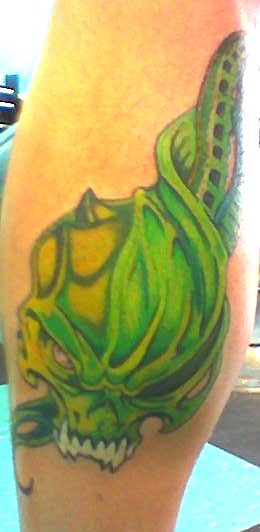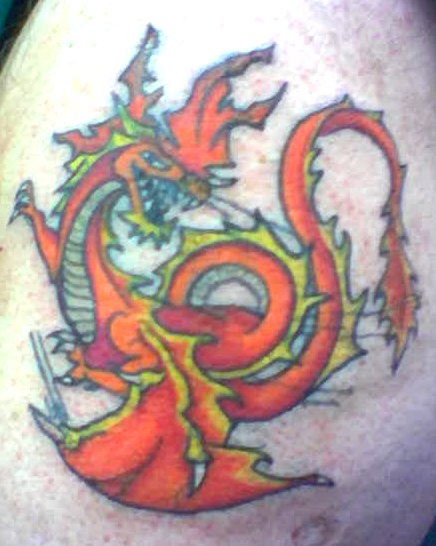 This red dragon tattoo, Marty came in with the outline for it already in his skin, from a friend. We touched up the outline and then colored it in for him.
Saturday, April 17, 2004
Okay....here ya' go .....
Then I am off to a party! Oh! And I have seen some of the cherry stickers! They Do Exist!! And! I should here something from the state on the Fiero in the next two weeks, they said.....So, it looks like my dream might still come together!
Stay Tuned! but I knew you would.....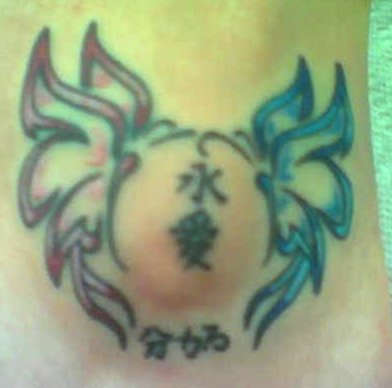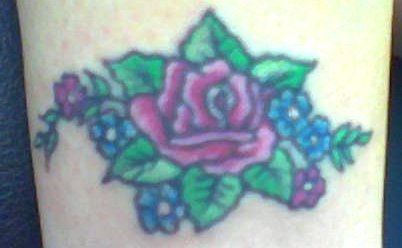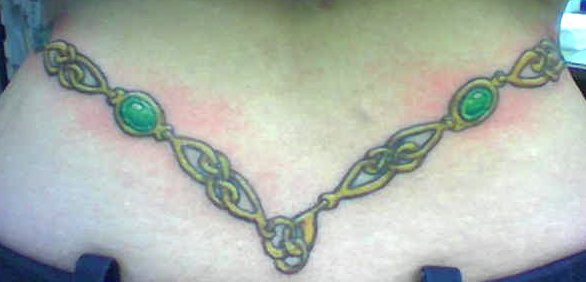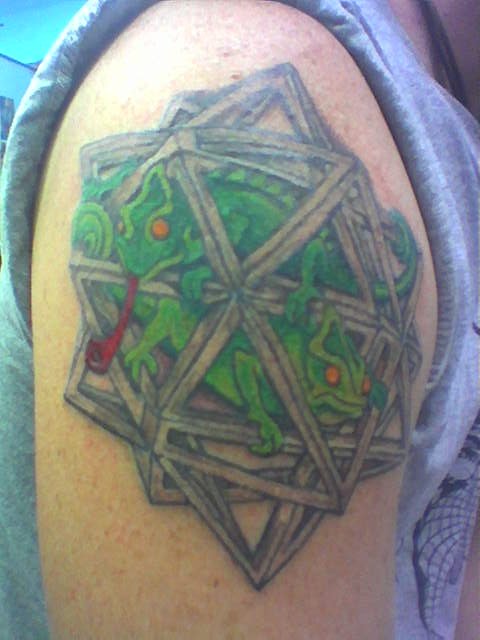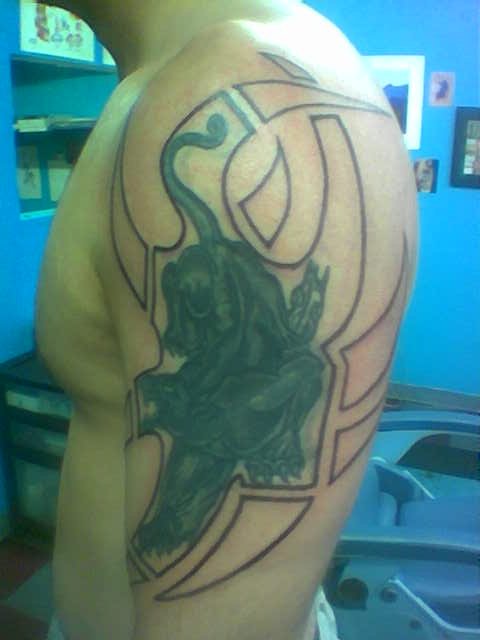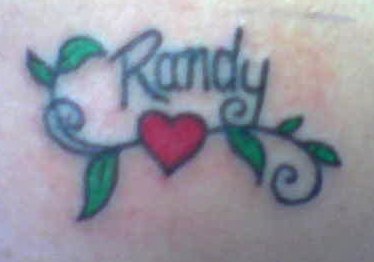 Tuesday, April 13, 2004
Whew....and more from the last few days....a flag butterfly tattoo, a Betty Boop Touchup that I did for R.
An emergency air/evac helicopter, a coverup on an inner arm....(the lilies/flowers cover up a name.) And also a new pic of Jeff's arm. This is the wave arm, and it was always meant to be a fire and water design. So, we did the flames tonight, and tomorrow, we will work on the backside of this same arm. I think that there were actually a few more, but....maybe these will tide ya over.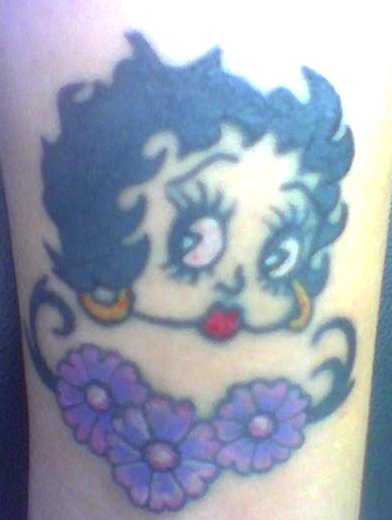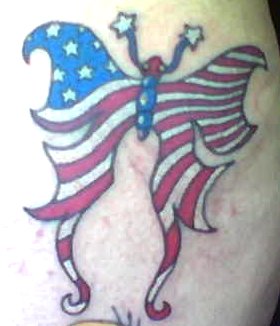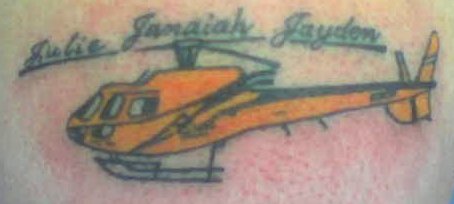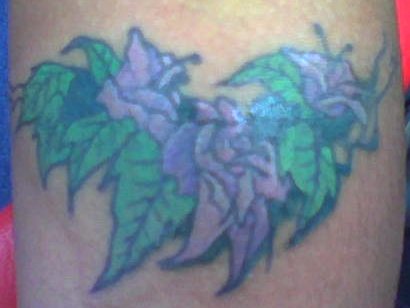 Friday, April 09, 2004
And here are the pics from the last two days.....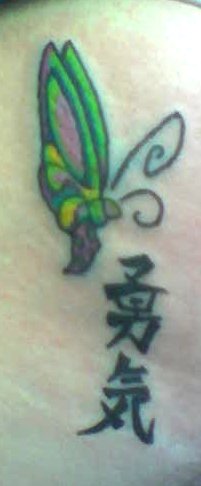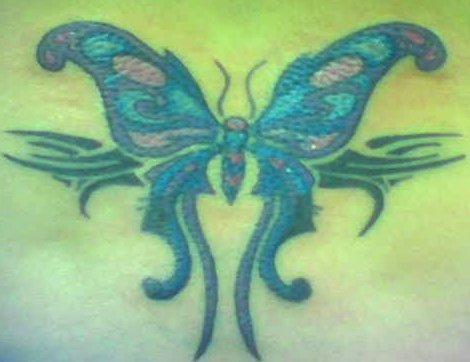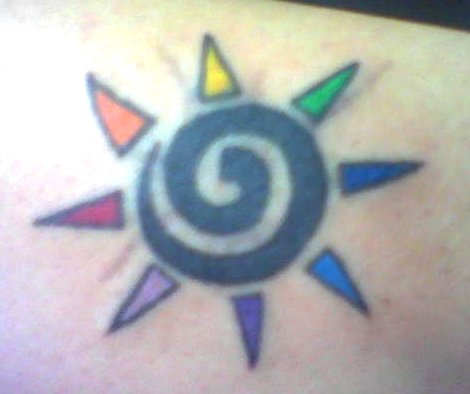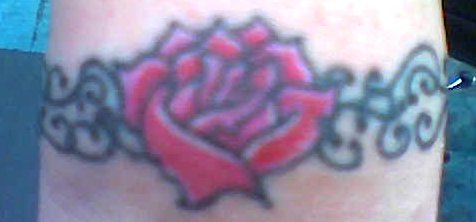 And here is my husband with his new Fender Guitar. Thanks again Steve and Mary.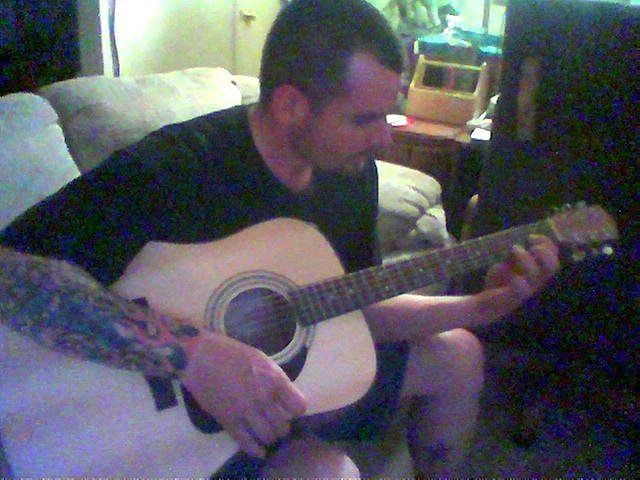 I just want to give a big public "THANK YOU" to all of the wonderful people who have been emailing me, I am so glad you like my site and see it for what it is meant to be.
I am sorry I have not been able to answer all of you individually, there is just flat too much mail to keep up with (almost 100 a day). Really, Thanks, your letters really made my days better this week when it's been so tough at work.
Chad is fitting in great. I hope he likes us, too.
So pretty soon things will be back to normal and I can stop working 6 12hr days a week.
I hope.
Thanks again, and keep watching
Sunshines Heaven
Wednesday, April 07, 2004
And here are the pics of what I did yesterday at work. I did a Pepe Le Peu and Penelope Le Peu. Then we laid in the outline for an Escher drawing. I finished up the day working on Jeff. We didn't take pics of that. But he will be in next week again.....
Also a new guy started. His name is Chad. Rad Chad.
He's pretty cool. I think we are going to get along great.
He does awesome work.
Ok, more later...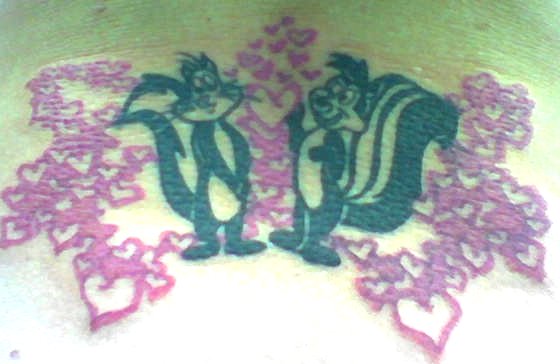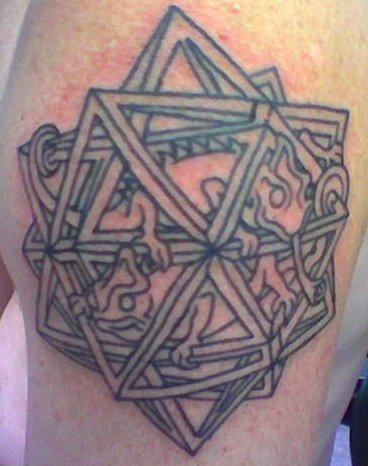 Saturday, April 03, 2004
And here is S! Also known as Sergio, he is the one who had the accident. He got an Egyptian type tattoo. The wings will be changing color to grey, Sergio is a bit of a bleeder, so the tat has a pinkish tinge to it. He already has his next tattoo picked out, so I will take another pic of this when he comes back.

So I worked on Steve, the quadraplegic, last night. We had the most fun! We had to secure his arm over with a belt, because he couldn't hold it stationary, and we put my doggy collar-necklace on him, and we all had the greatest time! I also put an adorable Eeyore tattoo on one of his caretakers, Mary. Thank you so much, guys! They paid for my husband's birthday present! I am taking him to Guitar World tomorrow and buying him an acoustic guitar. I have been wanting to buy him one for a long time, so thank you, Steve and Mary.
And then there are the pics of everything else......
love ya.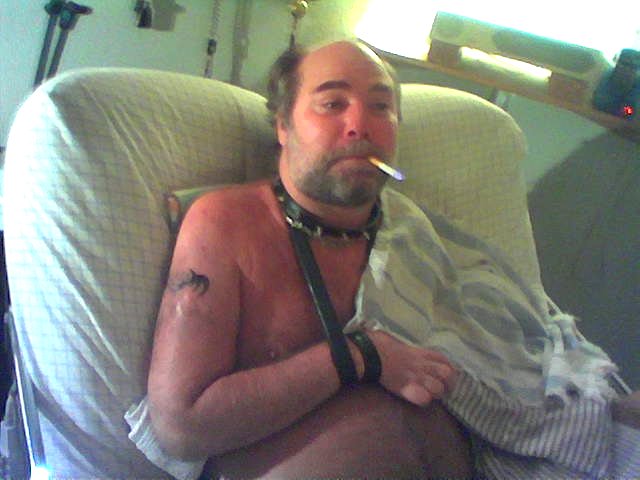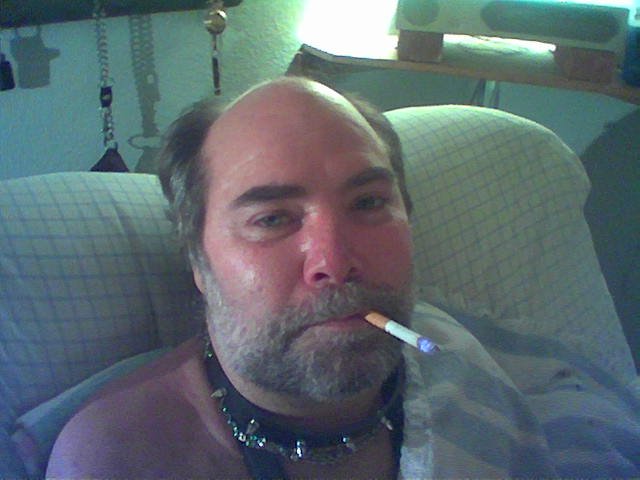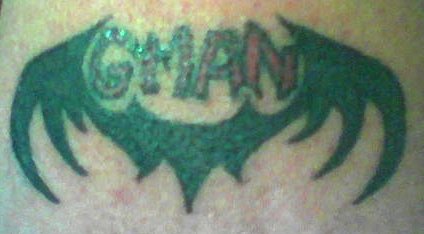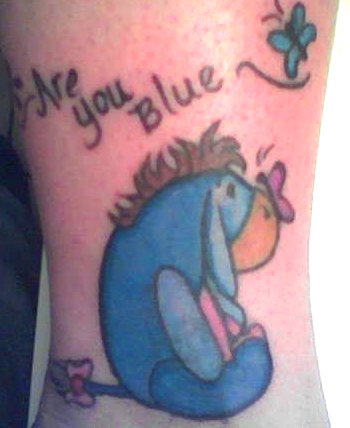 And everything else.....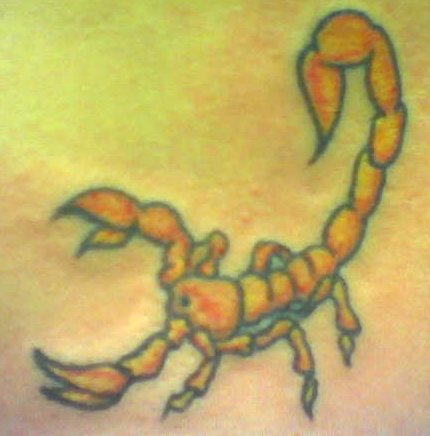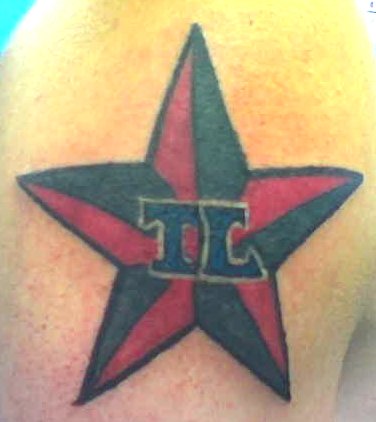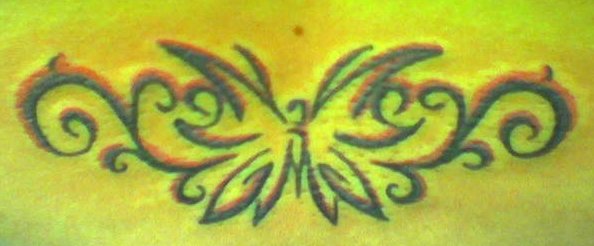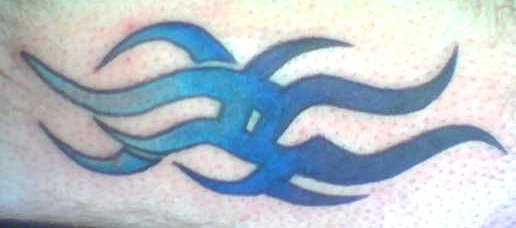 Thursday, April 01, 2004
I worked all day today. The first thing I did was a touchup on one of R's pieces. Forgiven before and Forgiven after. I ONLY DID THE TOUCHUP!!!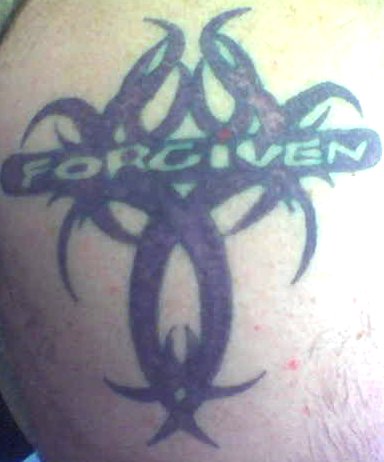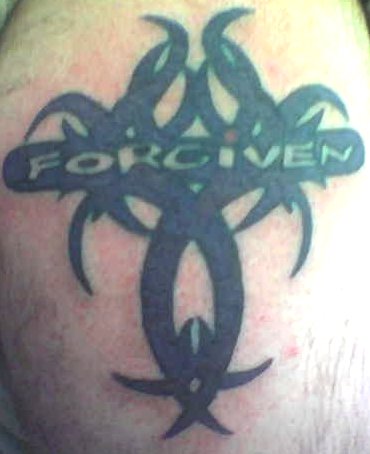 Then I touched up Dora's eyebrows. We had alot of fun. Her daughter came with her and we laughed the whole time.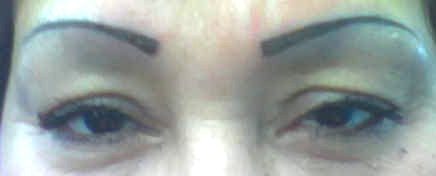 After Dora, I filled in the green rays on Danny's arm. The outline was already there from another artist. I am just going to color it in. Today we did green. This is right after we had finished the tattoo.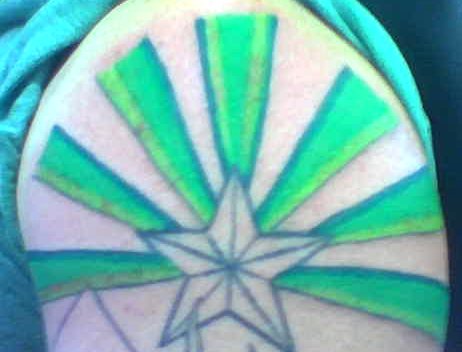 Then I had about half an hour before Traci arrived. We had hoped to get the whole tattoo of plumeria's done, but gosh. This thing is pretty big. It is on her front right hip and it is about 6 inches round. We made an appt. to finish it in a month.
Tomorrow, I am making a house call to work on Stephen, the quadraplegic. He is getting a memorial piece. It will be his first tattoo....but not his last!