Daily tattoo picture weblog of the stuff I do at work. (All pictures are taken with my camera phone) Currently working at ...somewhere else... Any comments? sunshinesheaven@hotmail.com
Wednesday, March 31, 2004
Today I did the cutest Mickey on a beanstalk vine. I had so much fun!
I also worked on Jeff again, we colored in with Blue Balls tonight. Last night we shaded the back half of his waves, tonight we colored the front in with Blue Balls.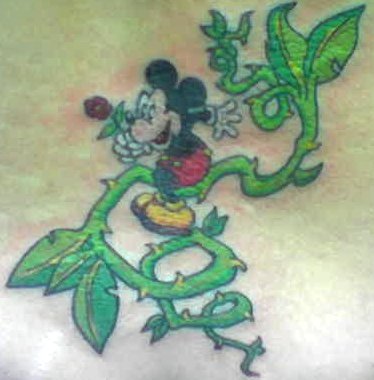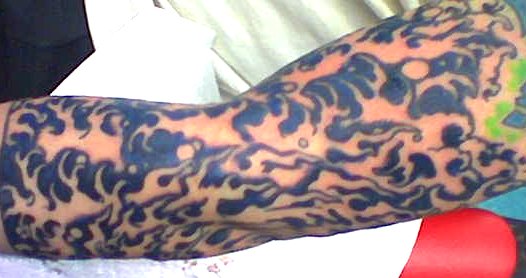 Monday, March 29, 2004
OH YEAH!!! Update on S!
S. had indeed decided to go for a coke. But he went to the corner store instead of the bar, and was rear-ended at the intersection. And he was in his brothers truck.
So he couldn't come back that night. But he did come back (and he is OK, thank goodness!) and we have rescheduled his appt!
YEAH! Thank you S!
What a couple of days. Here are the pics. There is a black ghost tattoo, a celtic moon tattoo that I did on the sweetest older lady today, a tinkerbell tattoo (I touched up the wings right before I took the pic.)
Also a superman emblem, but with a Z, instead....and a skeleton playing guitar tattoo.
I think that I did a few more tats than that, but either the pics didn't turn out, or I just forgot to take them.
And there is a kinda pic of the chair...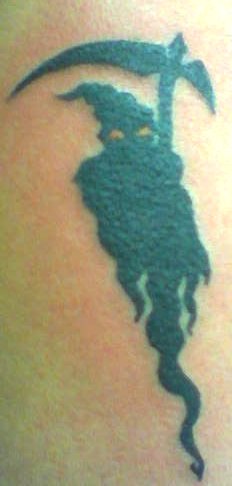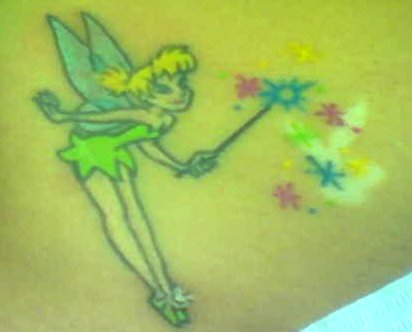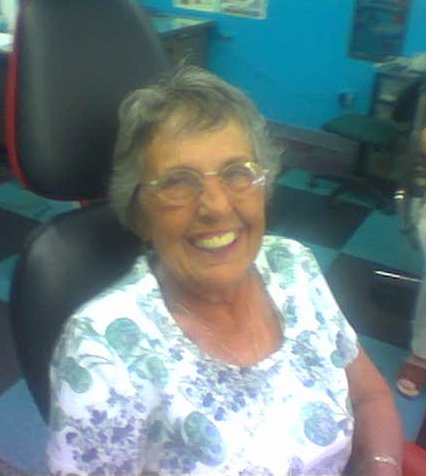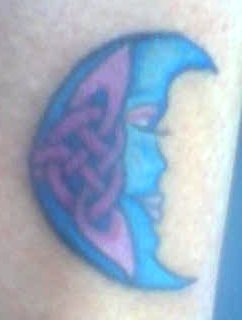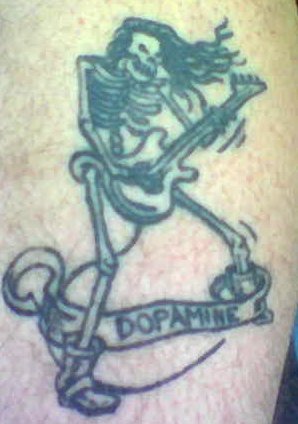 Friday, March 26, 2004
Ok. Well. So, the other tattooist was let go today, and another one had a really good interview with the Boss. I flipped desks/positions in the shop, too. Several people have been in to the shop and said " Oh. Is that your new chair?" I apparently have neglected to take pics of it still.
Tomorrow! I promise! Remind me!
Also, we applied for the abandoned title for the Fiero. Cause, I can't drive it yet.
OH FUCK!!!
I might never get to do it now, unless I do it myself. The other artist who was let go was the one who was going to hand paint all of the cherries. AND the guy who was going to print up professional stickers for both the car and the chair (cause, really. isn't that cooler if the cherries on the car and the cherries on the chairee are all EXACTLY the same?) is being dumped by his common law wife/girlfriend this weekend. Hmmm...... I will have to get on top of that somehow.
So. Didn't really start even working until 3 pmish. Then I did a heart with initials. Then a fish outline on a repeat customer. I also touched up the chin line and eyes of a really cute frog on her other leg...also a leaf line if I recall correctly...then a 1 hr tchup on one of R's pieces. I will put them in here, but with disclaimers. I ONLY DID THE TOUCHUP!!! or something.
Now. I had an appointment with S at 7 pm. I was running a little behind on the tchup for R's work. S sat around and waited until 7:30. I had greeted him, and had been talking to him, and had just gotten done smiling at him and saying "Almost done", nodding and refferring to the tchup I was working on. S smiled back, nodded, said no problem, then said "You know, I AM going to go get a coke." This was something I had suggested earlier, when telling him I was running behind. Then we smiled said ok, and out he walked. I thought he had walked over to the bar which is in the parking lot to get a coke. By 7:45, I had my rolly cart set and ready for S's tattoo. I walk over to the bar with the outline to show him and tell him I am ready, and no S.
S never came back.
Sweetie!!!!
You have a deposit down!! Your tattoo outline is great! They are awesome wings!
You didn't even see the drawings!! Come Back Come Back!!
I am so sorry today was such a shitty day for me and that I was running late. Please come back.
So here are the pics. Pics of the new arrangement and stuff in the shop and YES!
the chair, too, are coming.
Tomorrow.
if i like you...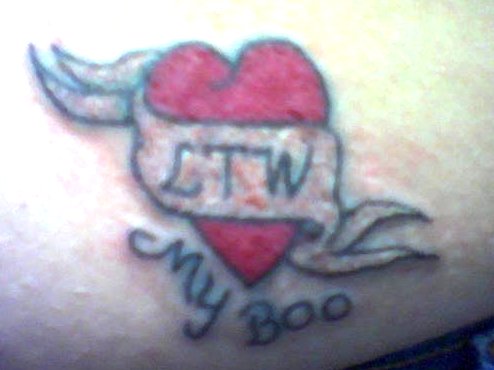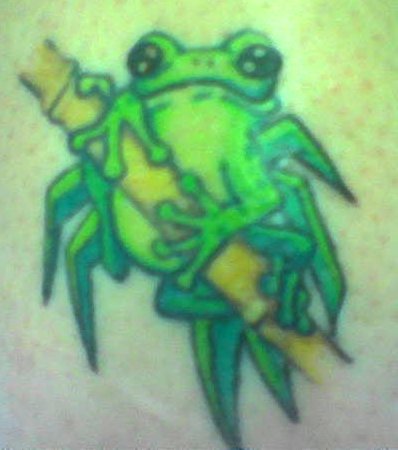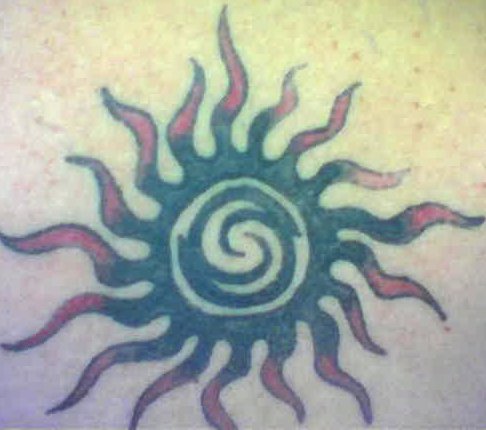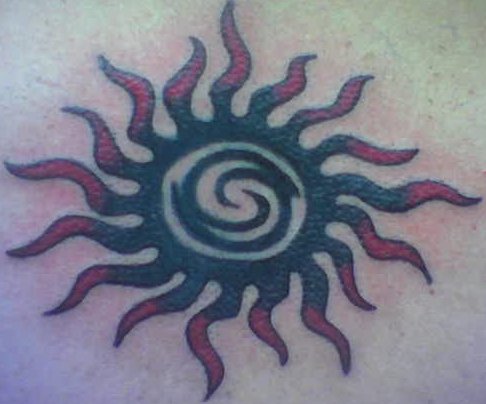 I ONLY DID THE TOUCHUP!!
Thursday, March 25, 2004
So much happening at work. The guy that works opposite me (Fr Sa Su Mo) is going to be let go tomorrow. I know that this is something that has to be done. I have known about this for 2 days. I know this has to be done.
But he is my friend. I will miss him. I will worry about him.
Today, I did the first of many touchups for him. It took me two hours, I had to completely redo the whole thing. No charge. (But such a lovely tip! THANK YOU, YOGI!)
(Hmmmmm.....also no pics of that. If you are interested in seeing the touchups that I do as well as the original pieces, EMAIL ME!!!!! You know where.....see top)
I also did a nice blue flame tattoo piece and a "Please No Touching" on a guy from Washington's elbow. He had Tennis elbow and it surely must have killed him to get the tattoo, but he took it great! Here are those pics.
ya know I love ya
I have been checking out my latest link....... Meryle.diaryland.
She is pretty fucking cool. She linked to me first...and that is how I found her. Too bad such a kick ass cool girl has to live in Toronto and not out here with all of us! I hope to see ya out here soon, Merle! You guys check out her site!
Wednesday, March 24, 2004
Here is some of what I did on Jeff on Tuesday. The other pics didn't turn out so great.
We are going to add more blue and better white to the blue flames. We are almost done with this arm...next week we work on the wave arm again.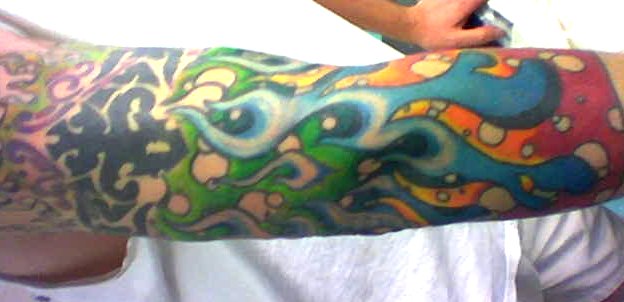 So, I worked on Carl today. We added the bottom of the angel and colored in around the moon some. No pics of that, but Carl shared his day with his friends this week....and I gave Larry his first tattoo ever. It was a great tat!
Monday, March 22, 2004
I worked on two people from Illinois today, Kelly and Joel. They contacted me weeks ago via the internet. We finally got together today and were able stain them a little.
She got the shamrock, and he got the Guiness Toucan.
And I got a lovely tip! Thanks!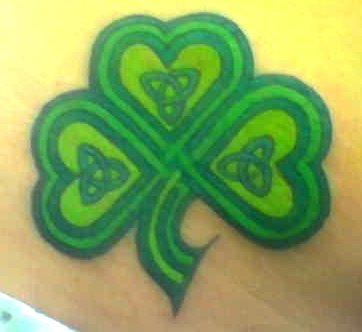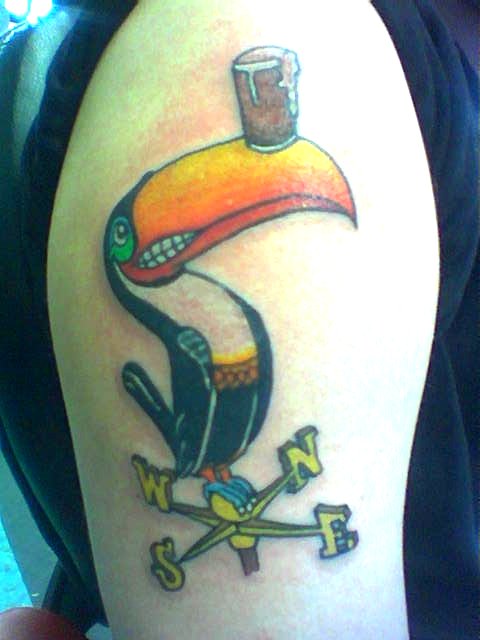 I spent several hours on Saturday working on Cheryl. She is trying to cover a scar on her tummy. She understands that there are no guarantees when working with scars, but was willing to try and so was I. So this is what she came up with.
We are going to color it in so that it looks gold w/emeralds. I think it's gorgeous!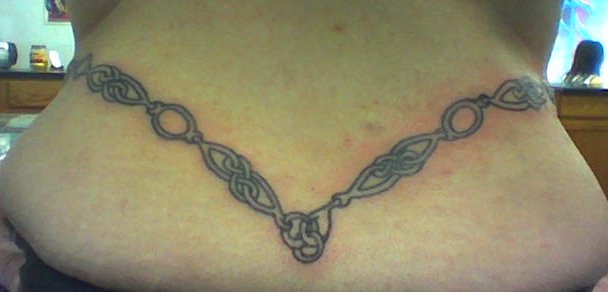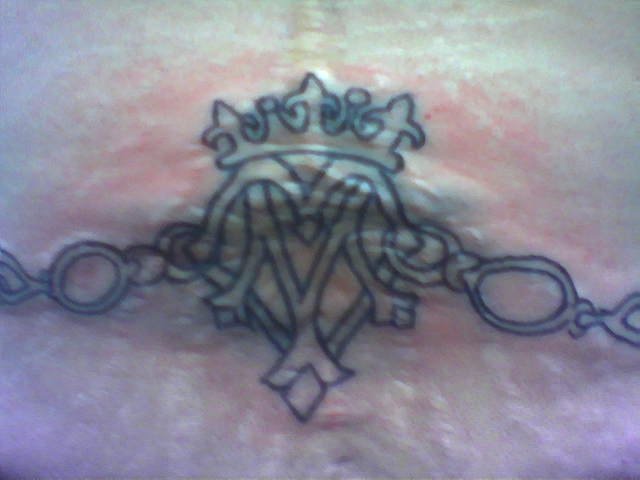 And I don't normally do touchups on Saturdays, but Molly and her mom are moving away to California, and I needed pics. These are the coolest mom and daughter pair I have ever met. Their tats are in elvish, and say Bilbo and Frodo. The story is more beautiful than the tattoos.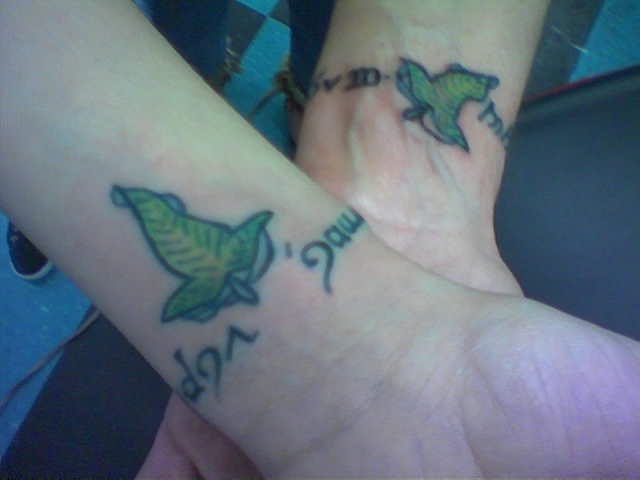 And another memorial piece. He and Amy had dated for several years. Lani was her daughter. He was within one week of asking Amy to marry him, when Amy and Lani were hit by a drunk driver. He still misses you.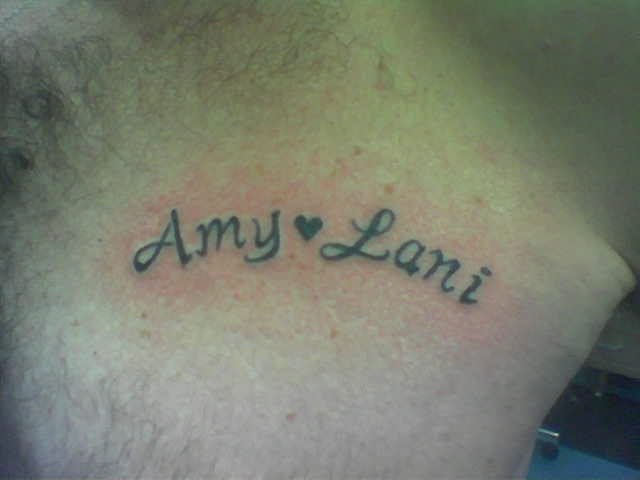 Friday, March 19, 2004
Oh yeah. We decided not to start coloring Jeff's waves on Tuesday. In fact, Jeff canceled out on Tuesday, but was still able to keep his appt on Wednesday. We decided to shade the waves first, before starting color.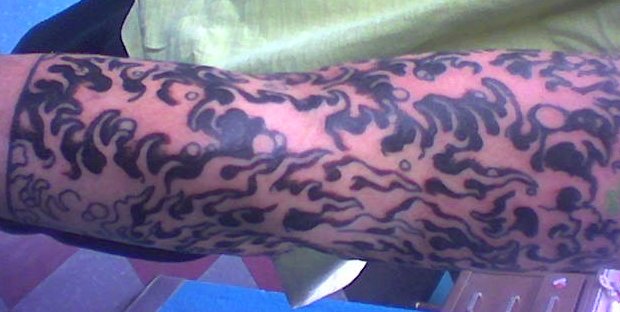 Whew. Busy Busy Busy. Today I did a big kanji on Freddy's Back. It says
"Victory or Death".
I added the cowboy hat, lasso, and banner to Chris' Tom Tom tattoo. Tom was his nephew, just a little guy, only 2ish. He drowned last year. We added the cowboy stuff to further remember his little spirit.
And Paula, she has wet flames.
And Art got his first tattoo. An initial.
I had a great day! Thanks guys for coming in!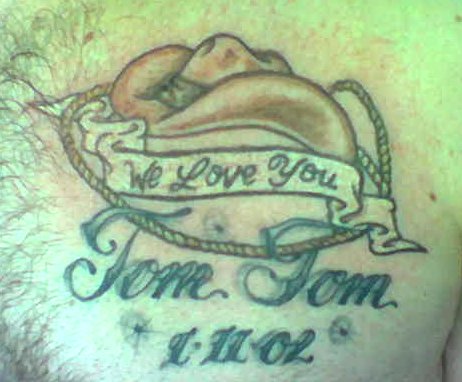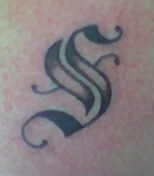 Tuesday, March 16, 2004
Here is a tribal I did on Crystal today. She was so cute and sweet. Came back to tip me! Thanks, Crystal.
Also, I did a really cool Goo today. Goo is Gumby's girlfriend. She turned out awfully cute, she wouldn't let me take pics because she didn't want anyone else to have one.
Also some initials...also no pics.
And then here is Jeff's other arm. You've seen his flames before. Here is his other arm.
We will start the color on that tomorrow.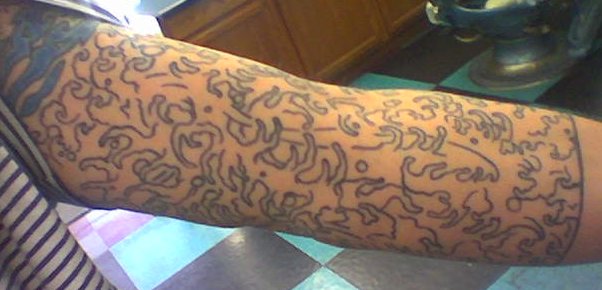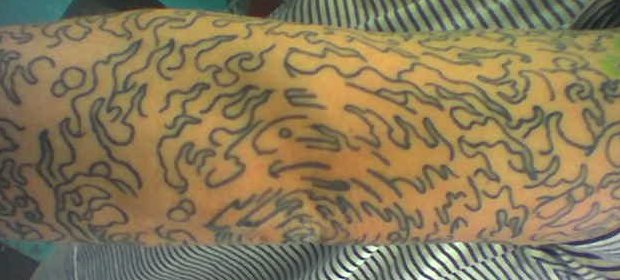 Monday, March 15, 2004
Here is another pic of Bryant's arm. We colored in the face yesterday. The flames were finished up about 2 weeks ago. We have lots of plans......
Bryant takes good care of me at work. Answers questions and phones, mops, vacuums, does line/copy/size work....takes out the garbage....Gosh. He is the best shop guy. So here is his paycheck (plus what I tip him).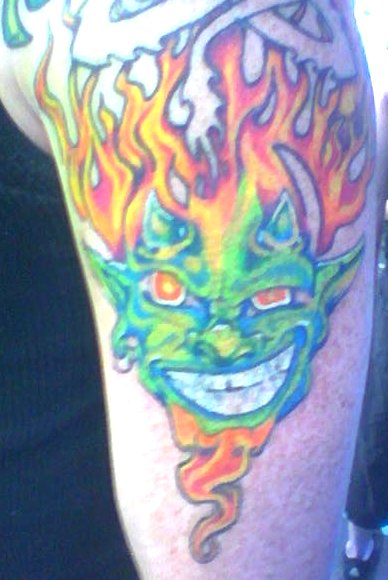 Sunday, March 14, 2004
Yesterday I was soo busy.
Here are Roy and Mona's tattoos.
And a very pretty flower in the middle of a lower back.
Working on Bryant, the shop guy, today. I will take pics of that, too.
Also, on Tuesday, Jeff is coming in and we are going to start filling in his other sleeve.
And my husband's arm is coming right along too.
Busy busy busy.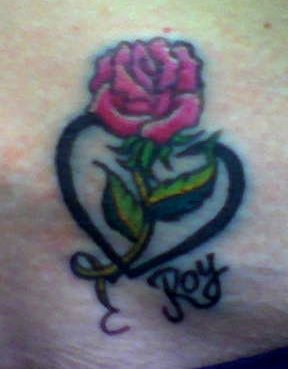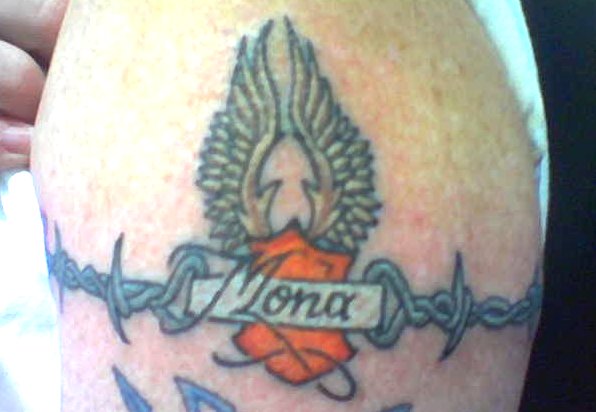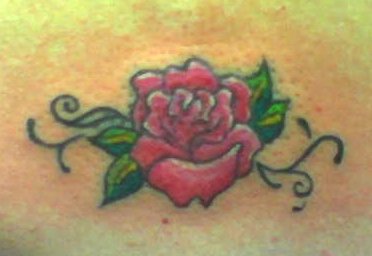 Thursday, March 11, 2004
IT IS NOT MY FAULT THAT I HAVE NOT BEEN UPDATING!!!!!
BLAME T-MOBILE!!
but it is still a sweet phone.....
I worked on Jeff (triple layer flames w/bubbles) on Tuesday, but we didn't take pictures.
Then I worked on Carl on Wednesday. We finished up his moon. I think there are two pics of his back.......and oooh. I discovered a new trick w/my mouse that is SO going to help w/resizing!
Also a cute turtle...this one was a gift to a friend of mine. The actual size is slightly larger than a half dollar.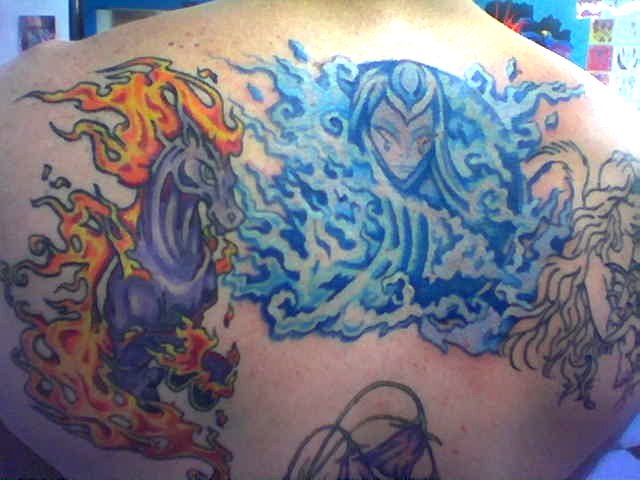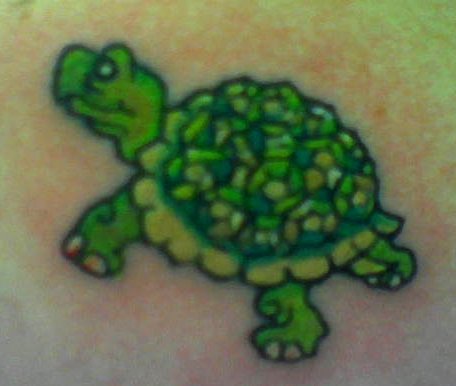 other than that....really slow. I have an appt. with a homebound person. I will try to take pics of him...but he doesn't have a computer.....
ALSO!!!
I know that I told you that I was getting a new chair....and I did.
But it was not at all done the way we had agreed upon, or at the time that we agreed upon. In the end, I took the chair half finished. I will post pics of it tomorrow. It is still so much cooler than the old one. But not at all what I had imagined.
And. I was going to put cherries all over the new black w/red pinstripe Fiero I just bought. So that my tattoo chair and my car would match. On the back of the car I wanted to put
Ride my "Chair"Y at Blue Dragon Tattoo and the phone......
But if the chair and the car don't match.....what's the point?
stilll.....pics of the chair tomorrow...and on my day off too.....seee how much I love you guys?
Sunday, March 07, 2004
what a week.
here are some of the highlights...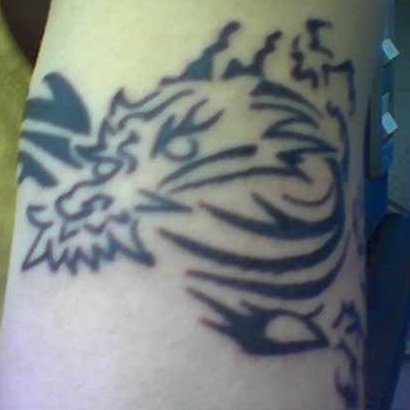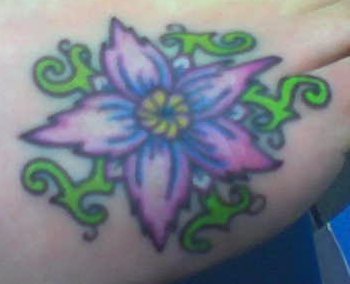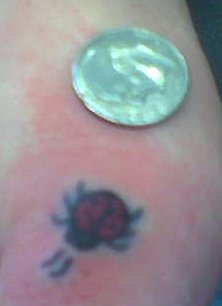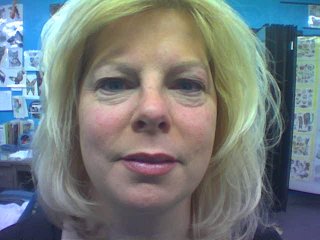 Wednesday, March 03, 2004
Well, well, well.....
So today I go into work, booked up for the day. Absolutely no room for walk-ins. By 1 pm, it's official.....ALL THREE APPTS CANCELED OR RESCHEDULED!
By 3 pm I am working on walk-ins, and keep working until 9:30. I also booked four more appts, including my first appt into April, today, so anyone thinking of coming in better CALL SOON!!!
I do still have some appts left for this month, so maybe I can fit you in.....
Here are some feathers I did today. I also did a nice tribal heart design in all purple. No black. But I had already bandaged it before I remembered about pics....
These feathers are about 3 inches tall.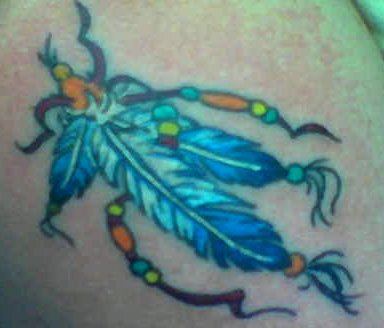 Tuesday, March 02, 2004
Today I did a custom sunflower tribalesque piece.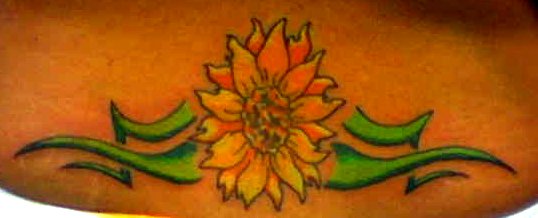 I also worked on Jeff some more. All of the bottom layer was done when he came in.
We worked on the blue layer tonight.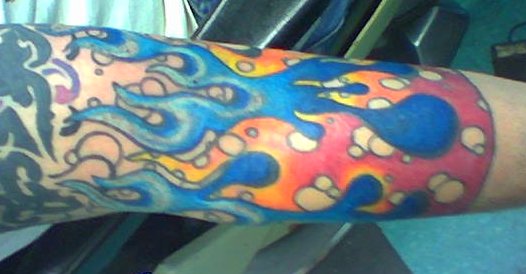 And here is the new shirt I got at the convention........I did promise you a pic of me.....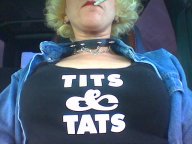 Monday, March 01, 2004
I'm Back!!!
Didja' miss me? I took alot of pics.....Some of the vendors....some of tat's being done....some of tats I thought were really coool on people I saw walking around.
So, by the way did I mention the weather was freezing and snowing and slushy?!
Yuck!
We went to the Salt Lake City Tattoo Convention Saturday afternoon and stayed for a couple of hours....I had alot of fun, but didn't see anyone I knew. It was fairly busy when we were there and getting busier when we left. We would have stayed longer, but, we had only a limited amount of time and had a family dinner planned for that evening.
Take a look at the convention pics....